I LOVE Christmas. Over the past few weeks Lyon has transformed into a giant, sparkly, Christmassy city. I'm falling in love with France all over again. Homesickness has vanished off the face of this earth, probably because I am self-medicating with vin chaud and Nutella crepes. It's cold and it rains often, but I am happy. December in Lyon is busy and vibrant, with plenty of free events drawing people out of their warm apartments and out into the dark night.
Fête des Lumières
This event is an absolute highlight – if you ever find yourself in proximity to Lyon during December, please, try to visit the city during the Fête des Lumières. Literally translated as 'festival of lights', this annual event sees Lyon light up in celebration of Saint Mary. It's a religious festival but also a technical triumph – I am confident the light shows on display are some of the best in the world.
The entire centre-ville lights up. Projections are shown on famous buildings and churches, and there is a huge ferris wheel in place Bellecour, the heart of the city. Everywhere you turn, you will be enchanted by sparkling lights, and on the final Saturday night there is an outstanding fireworks display. The ambiance is incredible. Tourists and locals come together. Little kids line the shoulders of their dads while gripping glowsticks and enjoying being out late at night. Streets are lined with vin chaud, roast chestnuts, sweet crêpes and other culinary delights.
Beware the crowds, though! It's so good you won't be the only ones flocking to see it. Book accommodation well in advance and be prepared to enjoy the festival in close proximity to others. I'm usually uncomfortable in crowds, but I found the lively, busy atmosphere suited the mood perfectly. It brings Lyon to life during one of the coldest, bleakest months of the year – I simply can't argue with that.
Snow, snow and more snow!
Last week I saw snow fall for the first time. I grew up in Auckland, a coastal city with a temperate climate – never too hot, never too cold. To see snow settle on the ground was magical; navigating the slush was a different story altogether.
It snowed on and off for a week, leaving the city covered in a blanket of white. It was so beautiful, especially when the sun came out. But Lyon did come to a bit of a stand still. Cities are not very well-equipped for snow storms. I was babysitting the night it snowed the heaviest, and the dad took three hours to drive home – a drive that usually takes 15 minutes! Meanwhile the mum was driving from another city altogether and didn't get home until 1am. Even infrastructure like tramways and busses cease to run. If it snows when you are in Lyon, retreat and enjoy some time out at home – there's very little point in braving public transport!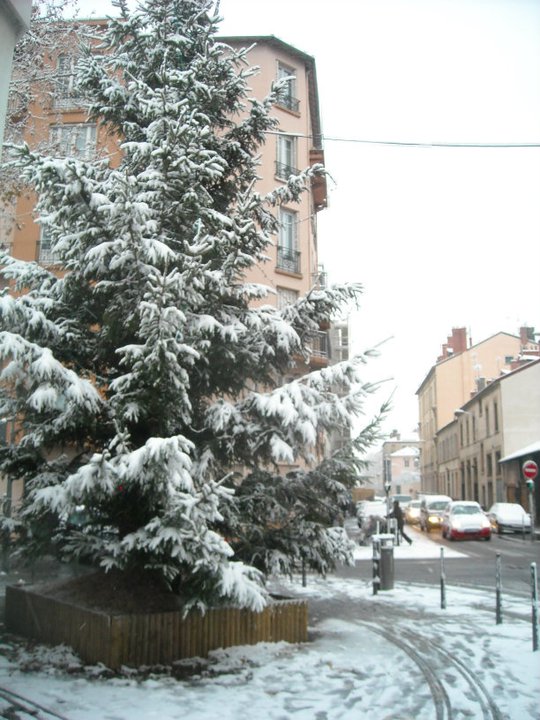 Lyon Christmas markets
The Christmas markets in Lyon are gorgeous. Just big enough to have something for everyone, but small enough to feel cosy. Justine and I spent several nights wandering around, enjoying the delicious food stalls and marvelling at the various Christmas crafts.
It's best to tackle the markets over a couple of nights, as the weather is too cold to linger long. The combination of subzero temperatures and snow on the ground leads to extremely numb feet! I'd recommend wearing fur-lined boots or gumboots.
Lyon is magical all year round but there's something about Christmas that brings the best out in people. December may not be the best month weather-wise, but you'll find plenty of warmth nevertheless.