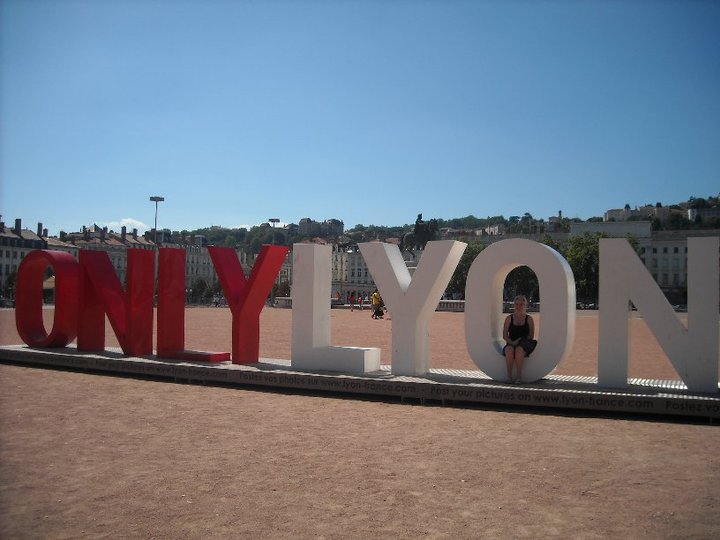 Today I want to tell you about my life in Lyon. All my other posts have been about exciting weekend getaways, exploring new places and countries. It's kind of easy to forget that I'm actually living in one of these amazing European cities. Sometimes I have to pinch myself as I walk down the street, because everything here has become so, so familiar. I call this place home. A little corner of France that I really feel like I know.
Lyon is awesome. It's the second biggest city in France – well, depending on who you talk to. There's an ongoing debate about whether it's Marseilles or Lyon, but to all the proud Lyonnais there's no shadow of doubt; they are next after Paris. Population is about 1.6million, similar to Auckland. The dynamic of the city is totally different though; Auckland is vast and sprawling, whereas Lyon, like other European cities, is more concentrated. You can get everywhere by foot if you really want to.
The city has two rivers running through it that divide it into three parts; Vieux (old) Lyon on one side, the Presqu'ile (literally meaning: nearly island) in the middle and then the rest. I live in the 3rd arrondissement, right next to the 'crayon' – the only skyscraper in Lyon - and a hop, skip and jump away from the train station. There's a mix of expensive apartments for Monday to Friday commuters, hotels, student residences and commercial buildings.
Justine lives in Vieux Lyon, which is the picturesque part of town. Cobblestoned streets, restaurants, bars, crêpe-vendors, churches… it's gorgeous. But I'm not too jealous because her apartment is basically my second home. She also lives right above our favourite Irish pub: how convenient! It's called Johnny's Kitchen and it does the most amazing Chilli Fries for 5euros. A massive plate of crunchy roast potatoes with chilli con carne on top. Best thing out.
French University Life
When I'm not exploring the city or travelling, I go to uni - Universite Jean Moulin III. Although it feels like I am hardly ever there. My class hours are minimal and I haven't had much homework to-date. The French learning system is totally different to anything I've ever experienced. Most of my classes require dictation and wrote learning; critical thinking and forming new ideas seems less important than memorising facts. Instead you hit the books and learn off by heart what someone has already said about a topic. This may not be the case at all universities or at all levels. I am studying the equivalent of first year literature - so I'm in a class with 17-18 year olds. The course is highly structured and everyone has to do the same classes, unlike at the University of Auckland, where I can pick certain classes from a range of options.
So far it appears that French students dislike being wrong - either that, or they are shy. Very few students voice new ideas or give things a go. I find this hard. As an English literature student, I've been taught to constantly question things, that there are no wrong answers; it's all about interpretation. Sure, it's important to back up your theories with quotes and examples, but the point is you're encouraged to say something different, not what has already been said 1,000 times. The more creative your angle is, the better.
Perhaps this is because in Auckland I study contemporary literature - and a wide range of topics. Whereas in France, the focus is on studying classics. And classic French novelists might as well be Gods. Rousseau, Voltaire, Hugo - these are names you don't mess with! All in all, the education I'm receiving here is rather traditional and structured - which in some ways is easier. As long as I turn up to class, write down my notes and pay attention, I will be okay. There is less analysing and more memorising. To be honest, I get more learning done out of the classroom. Walking down the street, sitting in restaurants, listening to people's conversations on the metro, talking to my flatmate. These daily activities are an education in their own right.
Nanny Life
I have a small part-time job here, more as a way to practice my French and keep busy than as a way to earn money. I work 4 hours a week for a local family, taking care of their two boys. Mathieu is 10 and Jean is 2, or as we affectionately call him 'Bebe Jean'. I get to watch kids movies and make afternoon teas and play with Lego. It's a nice way to spend my afternoons. I also get to practice my French - something that the 10 year old finds particularly amusing. Apparently my accent is hilarious.
Social Life
One of the great things about participating in an organised exchange programme is that you're thrown into a situation where you are going to make friends. I am more introverted than extroverted, so sometimes making friends is hard - I take time to warm to people. But here I have been fine, because everyone is in the same boat. We are all away from home and keen to make new friends, have new experiences. It's nice to be surrounded by people who are on the same page.
I've started inviting people over to my apartment for dinner, as I am the only one who has an oven. Most of my friends live in student residences, so their cooking utilities are minimal. Unfortunately my place is so tiny that we have to move the dining room table into my bedroom so we can all fit around it. It's a bit strange entertaining next to my bed but hey, it's better than nothing!
Apartment Life
Moving to Lyon was a big change for me in more ways than one - it's my first experience living away from home, in a flat with other people. I arrived in the city with nowhere to live, a bit of a risk but one that paid off in the end. I wanted to flat with local students so I could improve my French - an option that was also cheaper than living in a student hostel. It was daunting not having a place to stay, but I am so happy with how it's worked out.
I ended up taking the first apartment I viewed. When I first saw it, I was disappointed - it was tiny and a 20 minute walk from town. I had imagined something bigger and better. I politely declined and continued to view other options. It was after a few more days that I realised the first place I saw was actually superb - what it lacked in size it made up for in security and safety. I came back to the landlord and asked if it was still available, and to my relief it was! The longer I live here, the more I realise how perfect it is. I can walk to uni in 15 minutes and there are plenty of supermarkets close by, and the train station is mere minutes away. Isn't it fantastic when things work out?
I've already written 1000 words and it feels like I've only just touched on my life here. So much goes on everyday that it's hard to actually explain what it's like to live in France, halfway across the world, so faraway from everyone and everything that I know. It's amazing how quickly you adapt to a city though. I know it like the back of my hand. I have my favourite cafes, my local supermarket, my little routines. Even little things like catching the metro everywhere seem totally normal now – it's going to be weird going back to NZ where subways don't exist!
At the moment it is autumn, and golden crunchy leaves line every street. It's going to be interesting (and somewhat depressing) to watch winter take over the city. I'm sure the snow will be gorgeous, as long as I'm watching from the cosy interior of someone's house! I don't do cold. I find Auckland's winter cold. I'm already wearing many layers out everyday, which makes the mum of the kids I babysit laugh, because apparently I have no idea what's really in store for me.
Thing is, I really don't – and I'm not just talking about the weather! Everyday brings something new and unexpected. I'm sure that winter will have many surprises and life-changing experiences along the way. Especially once all my friends leave, whereas I'm staying on a bit longer to travel some more. I'm learning just to take everyday as it comes. To concentrate on getting the most out of every moment. To wake up and think of today, not of next week, not of next month. Because before I know it, I'll be back home and back to reality!
To wrap up with a quote… "Your dreams, what you hope for and all that, it's not separate from your life. It grows right up out if it." – Barbara Kingsolver.
That woman is a genius. Look at what dreams are growing out of my life right now.